Lawn of the Week Award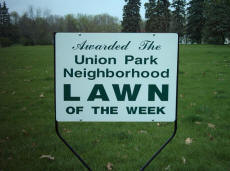 The Lawn of the Week Awards program started in 1992 by the UPNA Steering Committee, to identify and honor yards that exhibited both good landscape design and consistent quality of yard maintenance.
Tom McDermott and Yvonne McClure have volunteered to walk and drive through the area to identify outstanding front yards of neighbors whose lawns exemplified both neatness and beauty.
As they find a "winner", Tom and Yvonne place a sign in the yard - for one week - to proclaim the yard as the "Union Park Neighborhood Lawn of the Week". The winners will be honored at this year's Fall General Meeting, with a slide show that features the winning lawns. Recipients will receive a certificate of achievement and a gift certificate.
Tom and Yvonne will consider "nominations" but they make the final decision on who gets the Lawn of the Week awards. If you have a lawn you would like to suggest, please send an email to [email protected].