Spark Up!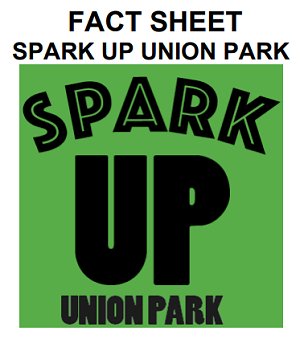 MISSION STATEMENT
To work on ways to increase community engagement among Union Park neighbors. We propose undertaking a human-centered design process in order to create a series of engaging initiatives that people in our neighborhood would enjoy. The principles used to guide us are: engage the wide group of neighbors and encourage conversation and relationships and fun.
What Is Spark UP?
We are a group of Union Park neighborhood residents who have gathered together to create some events that seeks to foster a sense of community and relationship in our neighborhood.
MEETINGS
All Spark UP committee planning meetings are open to anyone who wants to help plan events. The meetings are informal. Let us know you are interested in helping us plan by sending us an email and we will hook up. 2022
COMMUNICATION
We can communicate by e-mail, (if we have your email address) Face Book and newsletters as well as the website at www.UnionParkDSM.com .
HOW CAN I PARTICIPATE?
Just come to one of our events. Everyone is welcome.
CONTACT INFORMATION
Web Site:
www.UnionParkDSM.com
E-mail:
[email protected]
Mailing Address:
Union Park Neighborhood Association/Spark UP
P.O. Box 16113
Des Moines, Iowa 50316-9402
ACTIVITIES
Porchfest
Spring Egg Hunt
Yard Party
Beggars Night on Thompson
Chili Cook-off
Christmas at the Carousel
And More – We are coming up with exciting ideas
UNION PARK NEIGHBORHOOD ASSOCIATION BOUNDARIES
The Union Park Neighborhood Association consists of the neighborhood from Hull Avenue on the north, the railroad tracks (Glenbrook Drive) on the east, Washington Avenue on the south and the Des Moines River and Second Avenue on the west.