Half Century Award
The Union Park Neighborhood Association will recognize neighborhood residents who have lived in the same house for fifty years or more.
The purpose of this program is to call attention to and honor our neighborhood's long-time residents. The living memory and the presence of these individuals in our neighborhood contribute a distinct sense of place to Union Park and a source of stability within a quickly changing world.
Download a nomination form or contact any of the UPNA officers. Nominations may be submitted at any time. The Awards are presented at General Meetings of the Association.

Eligibility Requirements:
For the Half Century Residence Award, the resident must have lived in one house continuously for 50 years in the Union Park Neighborhood.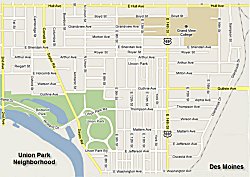 The house must be within UPNA boundaries, which are: The south side of Hull Avenue on the north, the railroad tracks on the east, the north side of Washington Avenue on the south, and the Des Moines River and the east side of Second Avenue on the west.
Absence for military service can be counted toward the fifty years if the resident returned to the same house.
These awards are intended to recognize continuous residence in the same house. If you think special circumstances warrant an exception, please explain why.
Applicant need not be a member of the Union Park Neighborhood Association. The applicant's signature is required to authorize the publication of the applicant's name in the association's newsletter.
All decisions of the Award Committee will be final.